Based on 30 years of research
Easychange is based on extensive research about why people find it so difficult to change their personal habits and behaviour.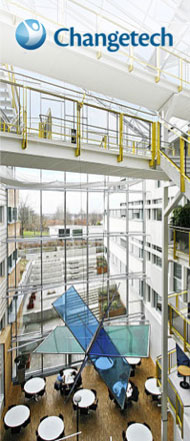 Changetech is located in the Oslo Innovation Centre, and is owned by the founders and staff.
Changetech AS was founded in 2006 and consists of psychologists and experts in both communications and computer systems. The company is considered a leader in psychology-based change programmes, and receives grants from sources that include the Norwegian Research Council and Innovation Norway.
The first programme developed by the Changetech team was the Happy Ending stop-smoking programme – now licensed to Pfizer and Johnson & Johnson. More than 2 million smokers worldwide have been using versions of the Happy Ending programme.
Two comprehensive clinical trials have shown that Happy Ending is the most effective smoking cessation programme currently available.
Changetech has also developed programmes for several pharmaceutical companies, the Norwegian Directorate of Health, the Norwegian Tripartite Committee for the Prevention of Alcohol and Drug Problems in the Workplace (AKAN), the Confederation of Norwegian Business and Industry (NHO), and a number of non-profit organisations.
Changetech PCP programmes are rooted in 30 years of research in behavioural psychology, social psychology and health psychology along with related disciplines.
To make the benefits of this research easily available, the company has developed ground-breaking proprietary technology to design and implement effective change programmes to meet a wide range of needs.